Guided Nature Walks
Our guided nature walks are a wonderful way to learn about the natural environment at the top of the Tram.
Read More
Hiking
Within the Mount San Jacinto State Park and Wilderness Area are 54 miles of hiking trails which should be sufficient to satisfy the appetite of the most avid outdoor enthusiast.
Read More
Camping
Within the Mount San Jacinto State Park and Wilderness Area there are six primitive campgrounds.
Read More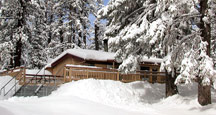 Winter Adventure Center
Cross-country ski and snowshoeing rental equipment will be available once sufficient snow has fallen.
Read More
Cross-Country Skiing
Cross-country ski enthusiasts have found the State Park to be unsurpassed in its challenging terrain. You can bring your own equipment or you can rent skis, boots and poles at the Adventure Center.
Read More
Family Snow Fun
People of all ages can enjoy fun in the snow, and only a few inches of snow are necessary. Sleds and cold weather apparel are available for purchase in our Mountain Gift shop.
Read More
Snowshoeing
For those wanting to take a walk during the winter into the back country, snowshoe rentals are available. Wilderness permits are required for anyone venturing outside of Long Valley, and may be obtained from the Ranger Station in Long Valley.
Read More
Snow Camping
For the more adventurous and well-experienced, snow camping offers a special way to spend a winter weekend. Requests for advance permits may be made in person or in writing.
Read More